HoloEdit 2021.1.1 Release Notes¶
Important
HoloSuite 2021.1.1 was a limted release with experimental tools for Depthkit.
New Features¶
Manage Workspace¶
The new Manage Workspace tool provides you with a new tool to tidy up workspaces and reduce their overall disk usage. Select which compositions and autosaves you want to keep, and HoloEdit will automatically prune all outdated assets that will no longer be needed. This can have a dramatic saving on workspaces which have been used to process a lot of jobs.
Additionally, Manage Workspace can be used to create a new workspace from a subset of existing assets. Similar to the cleanup process, you can select which compositions you would like to start a new workspace with and it will copy all of their required assets. This can be particularly useful for generating minimal project assets before sending them for troubleshooting or review.
Additional Frame Rate Support¶
Mp4 Exports have been updated with an additional parameter: Frame Rate (either 60, 30, or 24)
The HoloStream Unreal plugin has a single new configuration step for using 24 or 60fps. Find the Frame Rate field hidden in the OMS Settings of the OMS Blueprint in your scene, and update it accordingly: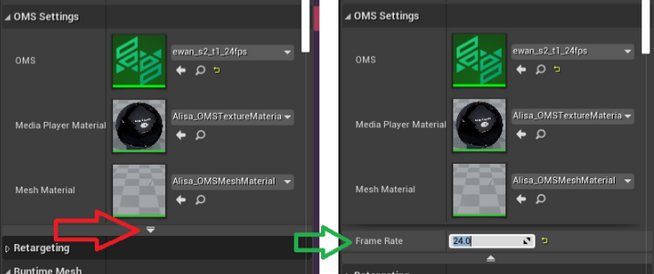 Full support for alternate frame rates in the Holostream Unity plugin will be added soon.
Depthkit Support¶
The provided Mesh Capture Tool project for Unity has been updated to support capturing meshes and textures from Depthkit. Please see our Depthkit Quickstart Guide for more information on how to get started.